Global Assessment Report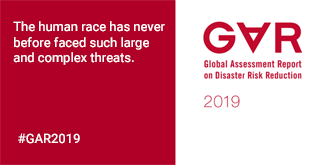 The GAR is a comprehensive review and analysis of disaster risk and risk management. It is published every two years.
GAR19
 moves beyond disaster risk to consider the pluralistic nature of risk: in multiple dimensions, at multiple scales and with multiple impacts. 
"If I had to select one sentence to describe the state of the world, I would say we are in a world in which global challenges are more and more integrated, and the responses are more and more fragmented, and if this is not reversed, it's a recipe for disaster."
-- António Guterres, United Nations Secretary-General, 2019
The Global Assessment Report on Disaster Risk Reduction (GAR) is a biennial global assessment of disaster risk reduction highlighting what's new, spotting emerging trends, revealing disturbing patterns, examining behaviour and presenting progress in reducing risk. GAR is known for breaking new ground on risk and its reduction – challenging prevailing norms and provoking us all to re-examine our behaviour and our choices.
The GAR aims to focus international attention on the issue of disaster risk and encourage political and economic support for disaster risk reduction.
The preparation of the GAR is coordinated and supervised by UNDRR.
The GAR is produced in collaboration and consultation with a wide range of stakeholders, with thinkers, practitioners, experts and innovators to investigate the state of risk across the globe
The Advisory Board
The GAR Advisory Board acts as an independent and strategic advisory body to the Special Representative of the Secretary-General and UNDRR on the overall direction, political relevance and academic rigour of the GAR work streams. The Advisory Board members provide advice  on the concept and substantive content of each GAR as well as its dissemination to inform global processes on sustainable development and climate change adaptation.
The Advisory Bard's members are appointed on the basis of their personal capacity rather than their institutional affiliation yet represent a broad spectrum of UNDRR partners, including representatives from science, governments, UN country representatives, civil society and private sector. Membership is usually for four years with a rotating system that allow for continuity over the report's biennial cycles.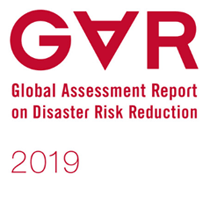 Global Assessment Report 2019
The 2019 GAR offers an update on progress made in implementing the outcome, goal, targets and priorities of the Sendai Framework and disaster-related Sustainable Development Goals. It provides an analysis of how risk science is changing, presents areas for additional endeavour, and explores aspects of understanding and managing systemic risk. It presents innovative research and practice for pursuing risk-informed sustainable development, and provides an introduction to the wider scope and nature of hazards and related risks to be considered.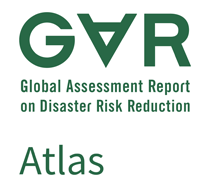 Global Assessment Report 2017
The GAR Atlas presents the risk associated with a number of hazards (earthquakes, tsunamis, riverine flooding, cyclonic winds and storm surge) with a global level of observation and a national level of resolution. By using the same methodology, arithmetic and exposure model to calculate the risk for all these hazards, the GAR Atlas provides globally comparable multi-hazard risk metrics and enables comparisons of risk levels between countries and regions and across hazard types. In this way, the GAR Atlas facilitates a better understanding of the global risk landscape, enabling the estimation of the order of magnitude of probable losses in each country, and taking into account the risk contributions from different hazards.
Global Assessment Report 2015
As the 2005-2015 lifespan of the Hyogo Framework for Action drew to a close, GAR15 questioned whether the way in which disaster risk governance had been approached during that period was really fit for purpose in a world threatened by catastrophic increases in disaster risk. In GAR15, new evidence on contemporary patterns and trends in disaster risk will be presented to assess to what extent the Expected Outcome of the Hyogo Framework for Action had been achieved or not. GAR15 also examined whether the way in which disaster risk governance had evolved was appropriate to address increasingly accelerated generation and accumulation of disaster risks. The conclusion underlined how disaster risk management can contribute to the transformation of the underlying drivers of risk, and why a reform of disaster risk governance is necessary.
Global Assessment Report 2013
GAR13 focused on the business case for disaster risk reduction, an important issue for both the private and public sectors.
Global Assessment Report 2011
GAR11, which addressed the issues of revealing risk and redefining development, contributed to achieving the aims of the Hyogo Framework for Action by monitoring risk patterns and progress in disaster risk reduction. Importantly, it also provided guidance and suggestions to governments and non-governmental actors alike, on how they can, together, reduce disaster risks.
Global Assessment Report 2009
GAR9 provided hard-hitting evidence to demonstrate how, where and why disaster risk was increasing globally and presented key findings from a global analysis of disaster risk patterns and trends, including where high mortality and economic loss was concentrated.